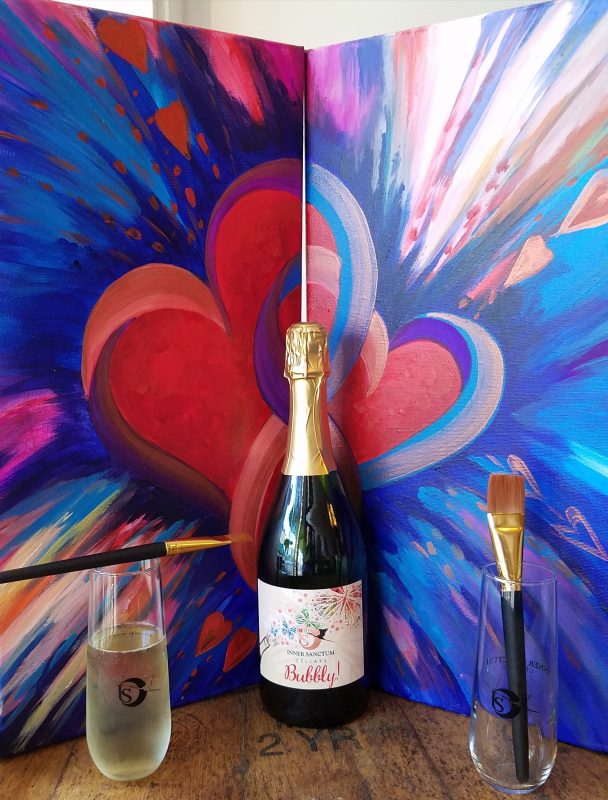 A Perfect Pairing   
Join Brush & Cork and Inner Sanctum Cellars for A Perfect Pairing Valentine's evening you won't forget!  Wine, food and paint pairing in an intimate historic venue, on Saturday, February 10th at Eagle Cotage in Columbia State Historic Park from 5:30 to 10:30 PM.  This will be a special 5-course dinner paired with Inner Sanctum's award-winning wines, followed by Brush & Cork's beautiful interlocking heart painting experience.  All for the great price of $105.00 per person.  Tickets can be purchased at Inner Sanctum Cellars Tasting Room or scroll down this page to purchase your ticket securely through Paypal or credit card.

Plus, for all of our party goers, the Historic City Hotel, in the park, is offering a 20% Discount for your overnight stay in the hotel or one of 3 cottages (for groups of 2 to 6 people).

PLEASE NOTE: To make your hotel reservation YOU MUST CALL TO RESERVE your room or cottage at 209-532-1479, to receive this Special Offer.  When you call, be sure to tell them you are attending the Brush & Cork/Inner Sanctum party at the Eagle Cotage.  You will pay for your room when you arrive.  Because this is a historic building it is not an ADA accessible building.  The Eagle Cotage is accessible. 
Columbia State Historic Park, The Historic City Hotel, and Cottages
Columbia State Historic Park is the heart of California history.  The town's old Gold Rush-era business district has been preserved with shops, restaurants and two hotels. Visitors have the chance to time-travel to the 1850s, imagining life when gold miners rubbed shoulders with businessmen and the other residents in Columbia. Visitors can experience a bygone era watching proprietors in period clothing conduct business in the style of yesterday. There are opportunities to ride a 100 year-old stagecoach, pan for gold, and explore the real working businesses of Columbia.
The Historic City Hotel is authentically restored 19th-century country inn. All rooms are elegantly appointed with Victorian antiques, custom crafted wall coverings, and beautiful lithographs.
The hotel has a sitting parlor where you can peruse books and magazines, or participate in one of many board games.
Historic Cottages to rent for small overnight groups are quaint and cozy and are also just a couple blocks walking to Eagle Cotage (and YES, that is the correct spelling!!!).

Imagine…
When you arrive at the City Hotel in the afternoon and you can stroll through the town's shops and museums, maybe having a cocktail at the Hotel's What Cheer Saloon before walking three short blocks to the Eagle Cotage for an evening spent in an intimately lit historic cottage, enjoying an exceptional meal, paired with the perfect wines, and completing the evening in the guided creation of the painting pictured here…"Paired Hearts".  And topping the evening off with a beautiful walk back to the City Hotel, through the deserted street of this 1850 Gold Rush town.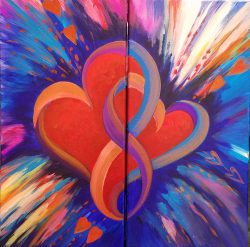 Casual attire is suggested.  You will be provided with aprons, easels, brushes, paint, and full instruction. Each person will receive their own pre-drawn canvas to match with their partners to be hung together for a completed image.  We welcome singles, as well and will gladly help you to create your own canvas to enjoy.  A Sweetheart of a painting to remind you of an exceptional evening.   

There are several restaurants available in the park for your breakfast or lunch the next day, to complete your most memorable Valentine's weekend.
Tickets:   
Special Early Purchase Discount: 
Purchase tickets on or before January 31st and your price is $95. per person.
After January 31st tickets will be $105 per person.
Sorry, no one under 21 will be allowed.  No Gift Certificates or Discount coupons or credits accepted for this party.
We hope you will join us!       
Judy Grossman – Brush & Cork
Karen & Pete Luckhardt – Inner Sanctum Cellars    
Date/Time
02/10/2018
5:30 pm - 10:30 pm
Registration Instructions:
NEWCOMERS:
1. If you have never attended an event at Brush & Cork, please fill out the form on the left (below). Make sure you enter the security CAPTCHA at the very bottom before you click 'BOOK NOW'. It is a security feature to prevent fraudulent bookings. 2. After you click 'Book Now', you will be re-routed to Paypal where you can PAY WITH CREDIT CARD OR A PAYPAL ACCOUNT to complete your booking. 3. As soon as you book and pay, you will receive an email with your user information and password. This will allow you to manage multiple bookings and/or make changes to your booking in the future. You will also receive email confirmations of your booking and a receipt from Paypal. * If you prefer to pay by cash or check, please call us at 209-533-4542 to book your spot.
RETURNING PAINTERS:
If you HAVE attended an event with B&C before, please log in using the shorter form on the right (below). When you registered for your first event, you were sent an email with your login information. Your Username is the first section of your email address. If you have misplaced your login information, you may retrieve by following the links just below the form.
Bookings
Bookings are closed for this event.