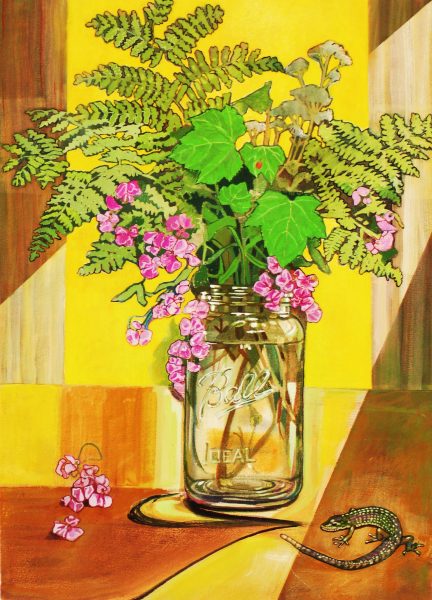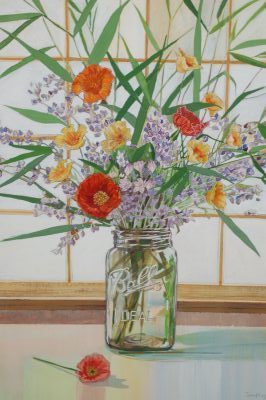 The Beginner's Egg Tempera and Watercolor Workshop on Saturday, June 16th, 2018, will be held all day, starting at 10 AM, continuing to 4 PM. The price is $75 and includes all materials. The workshop demonstrates how to make your own paint and then shows step by step how to paint a sparkling still life painting of flowers in a glass jar that you can take home and frame, similar to the paintings shown above.
What is egg tempera? No, it is not yummy Japanese food (tem-PUR-a) made with tasty deep-fried eggs. Egg tempera (TEM-per-a) is an actual painting technique with ancient origins, used by artists to this very day.
Egg tempera is a permanent, fast-drying painting medium consisting of colored pigments mixed with egg yolks and distilled water. Tempera paintings are very long lasting, and examples from the first century AD still exist.
You may be familiar with Andrew Wyeth, who used egg tempera in many of his paintings. We will be using a technique very similar to his.
I will show you, step-by-step how to create your own paints,made with pigments from finely ground minerals such as cadmium red and yellow, earths, and carbon black. You will break fresh eggs use the yolks to mix with the pigments. I buy most of the pigments we will use from Sinopia.com.
Then we sketch the floral still life composition onto stretched cold press watercolor paper. (Don't worry, I have provided a pre-drawn sketch for you to copy.)
We use our watercolor set and brushes to lay in the background colors. Then we paint in our flowers and glass jar with egg tempera. I will show you how to paint the glass jar so it looks transparent.
Provided for the class which you may take home:
watercolor set and brush
drawing pencil
drawing board with watercolor paper
mixing palettes
Of course we provide the eggs.
Please call or text Joan at 209.352.2055.