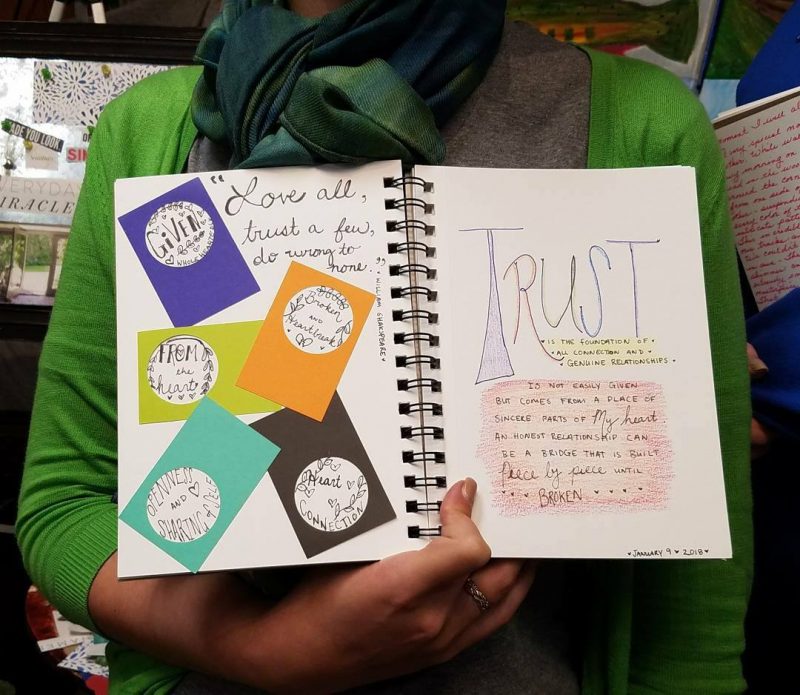 Learn How to Express Yourself creatively through various journal techniques.
Each week Mary Lou Gerber will guide you with a new creative process, such as use of different types mediums (watercolors, markers, or colored pencils, and portable utensils), hand lettering, layout, various sources of inspiration, use of color, uses for creative journals and their various formats, and finding your muse.  You will be encouraged to work on your own at home, but there will be no requirements for the class.  There is no pre-requisite for the class.  All levels of abilities are welcome and encouraged to share.  Creative journaling is not the same as writing a diary, but can also be used if you are interested in writing a diary and enhancing it for your own satisfaction.  This is not a creative writing class.  You are encouraged to explore things, places, interests, magazines, books, quotes, and other stimulus that may help you create and find joy in the process of discovery.  If you have never done anything like this before, but are curious, call us at 533-4542 with any questions you might have about the class and what you might expect to gain from it.  Mary Lou is capable of helping the first time journaler or the more advanced explorer.
       
Mary Lou journals when she travels, journals for her calendar, journals her experiences and her environment.
This is a FOUR-part class held on
Tuesday nights during the month of April
April 3rd, 10th, 17th, and 24th
From 6:00 to 8:00 PM  
Registration Closes March 29th
All materials will be provided, including a spiral notebook/mixed media drawing pad, watercolors, brushes, colored pencils, markers, pencils, palettes, and aprons.   If you care to bring any of your own supplies, magazines, or reference materials please free.  But Mary Lou has a massive amount of resources for you, so not to worry if you've never done this before.
We are offering this for $100 for all four nights, a regular value of $125.
We hope you will join Mary Lou for this inspiring, fun, and creative class. It is unique and was very well received at our first class held in January.  We had some very good suggestions made by our first class attendees and have utilized their suggestions in order to provide you with a more well rounded, informative, and always fun class.
BYOB (coffee, tea, and water provided) and snacks.  Come a little early for sipping and schmoozing, class starts at 6:00 PM.
Sorry, no one under 21 allowed.
Date/Time
04/03/2018 - 04/24/2018
6:00 pm - 8:00 pm
Registration Instructions:
NEWCOMERS:
1. If you have never attended an event at Brush & Cork, please fill out the form on the left (below). Make sure you enter the security CAPTCHA at the very bottom before you click 'BOOK NOW'. It is a security feature to prevent fraudulent bookings. 2. After you click 'Book Now', you will be re-routed to Paypal where you can PAY WITH CREDIT CARD OR A PAYPAL ACCOUNT to complete your booking. 3. As soon as you book and pay, you will receive an email with your user information and password. This will allow you to manage multiple bookings and/or make changes to your booking in the future. You will also receive email confirmations of your booking and a receipt from Paypal. * If you prefer to pay by cash or check, please call us at 209-533-4542 to book your spot.
RETURNING PAINTERS:
If you HAVE attended an event with B&C before, please log in using the shorter form on the right (below). When you registered for your first event, you were sent an email with your login information. Your Username is the first section of your email address. If you have misplaced your login information, you may retrieve by following the links just below the form.
Bookings
Bookings are closed for this event.