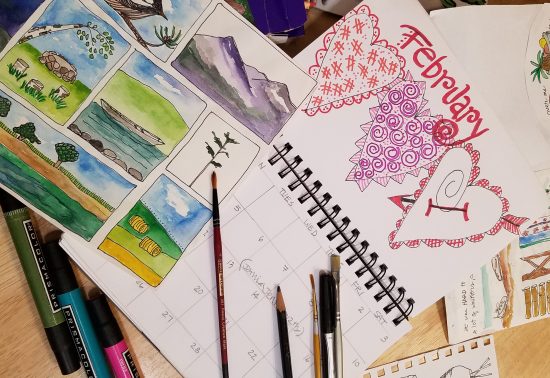 Start Your New Year with Intention & Goals
This is the first time we are offering this very special class.  Your teacher for this class is Mary Lou Gerber.  Mary Lou has been journaling everyday for years and has taught this class many times to first-time and experienced journalers.  She journals when she travels, journals for her calendar, journals her experiences and her environment.  This particular class will be focusing on setting up your monthly and year-long goals and how to be creative with your planning, making it a fun, interesting, and rewarding experience.
This is a FOUR-part class held on
Tuesday nights during the month of January
January 9, 16, 23, & 30th
From 6:00 to 8:00 PM  
All materials will be provided, including a spiral notebook/mixed media drawing pad, watercolors, brushes, colored pencils, markers, pencils, palettes, and aprons.  
We are offering this at a Special First Time Offer of $100 for all four nights, a regular value of $140.
We hope you will join Mary Lou for this inspiring, fun, and creative goal setting class.
BYOB (coffee, tea, and water provided) and snacks.  Come a little early for sipping and schmoozing, class starts at 6:00 PM.
Sorry, no one under 21 allowed.
Date/Time
01/09/2018
6:00 pm - 8:00 pm
Registration Instructions:
NEWCOMERS:
1. If you have never attended an event at Brush & Cork, please fill out the form on the left (below). Make sure you enter the security CAPTCHA at the very bottom before you click 'BOOK NOW'. It is a security feature to prevent fraudulent bookings. 2. After you click 'Book Now', you will be re-routed to Paypal where you can PAY WITH CREDIT CARD OR A PAYPAL ACCOUNT to complete your booking. 3. As soon as you book and pay, you will receive an email with your user information and password. This will allow you to manage multiple bookings and/or make changes to your booking in the future. You will also receive email confirmations of your booking and a receipt from Paypal. * If you prefer to pay by cash or check, please call us at 209-533-4542 to book your spot.
RETURNING PAINTERS:
If you HAVE attended an event with B&C before, please log in using the shorter form on the right (below). When you registered for your first event, you were sent an email with your login information. Your Username is the first section of your email address. If you have misplaced your login information, you may retrieve by following the links just below the form.
Bookings
Bookings are closed for this event.