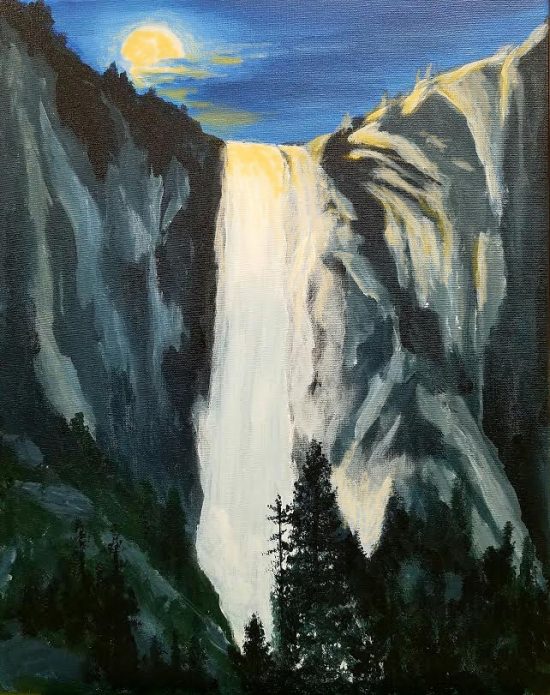 Full Moon Over Bridalveil
The Full Moon happens on September 6th!  It will happen at Brush & Cork on Thirsty Thursday, September 7th.  Keep the glow going year round by joining us to paint the Full Moon Over Bridalveil Fall.   Add snow if you'd like and even more spray at the bottom of the falls, after last winter's storms.  We provide your pre-drawn canvas,  paint, easel, apron, brushes and full instruction.  You provide your own libation and snacks to share.
Come a little early for some sippin' and schmoozin' , painting starts at 6:30 PM.
Date/Time
09/07/2017
6:30 pm - 9:00 pm
Registration Instructions:
NEWCOMERS:
1. If you have never attended an event at Brush & Cork, please fill out the form on the left (below). Make sure you enter the security CAPTCHA at the very bottom before you click 'BOOK NOW'. It is a security feature to prevent fraudulent bookings. 2. After you click 'Book Now', you will be re-routed to Paypal where you can PAY WITH CREDIT CARD OR A PAYPAL ACCOUNT to complete your booking. 3. As soon as you book and pay, you will receive an email with your user information and password. This will allow you to manage multiple bookings and/or make changes to your booking in the future. You will also receive email confirmations of your booking and a receipt from Paypal. * If you prefer to pay by cash or check, please call us at 209-533-4542 to book your spot.
RETURNING PAINTERS:
If you HAVE attended an event with B&C before, please log in using the shorter form on the right (below). When you registered for your first event, you were sent an email with your login information. Your Username is the first section of your email address. If you have misplaced your login information, you may retrieve by following the links just below the form.
Bookings
Bookings are closed for this event.