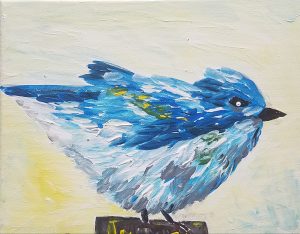 Introducing the first of our new Saturday Morning Family Paint Parties.
The kids and grown-ups parties have been a huge success, thanks to everyone for coming. We've had so many requests for a time when parents aren't working (so more people could come), so we are trying Saturday mornings. We hope it works for more people. We are also now offering four kids and grown-ups parties per month, instead of just two. We will now offer two on Saturday mornings and two on Mondays (except when other scheduling is necessary). For those of you that can make it on either day, please try to come on Mondays and leave Saturdays open for those that can only make it on that day.
PLEASE NOTE: Our goal in starting these parties was to offer you and your children a place to play together, to create together, to relax and make a mess…TOGETHER. Our hope is that the experience for both adult and child painting, in your own individual way and on your own canvas, provides an outlet of relaxing playtime and helps to create a special memory of the most unique kind (a creative kind!) where the playing field is most likely equal… Your child not getting enough creative playtime at school and you…not getting creative playtime in your adult world.
Think of us as a family creativity playground.
Because of the popularity of these parties, we want to remind you that we only have chairs enough for those that are actually painting…with our hope that everyone attending paints. We're not the karate, dance, soccer, after school-drop-the-kids-off-and-watch kinda place. We're the get-paint-on-your-hands-and feel-the-fun-WITH-your-kids kinda place! It is why we started Brush & Cork…to create a "LOTTA FUN". Laugh, paint and play. We have tried to keep our prices low enough to make this feasible for all families and our hope continues to be that you will come and play together with no judgement as to the outcome, other than having a good time.
After all, if you are here anyway…when in Rome…Just Do It! Paint with your kids. Be a kid with your kid.
As these kid-adult parties grow, we hope we will be able to add scholarship funds to help those families that might find themselves a little short at times to also enjoy the fun. 
All painters must be of Kindergarten age or older. As always in these parties, grown-ups must be accompanied by a kiddo.
$15 per painter. Painting starts at 9:30 AM.
Date/Time
01/05/2019
9:30 am - 11:00 am
Registration Instructions:
NEWCOMERS:
1. If you have never attended an event at Brush & Cork, please fill out the form on the left (below). Make sure you enter the security CAPTCHA at the very bottom before you click 'BOOK NOW'. It is a security feature to prevent fraudulent bookings. 2. After you click 'Book Now', you will be re-routed to Paypal where you can PAY WITH CREDIT CARD OR A PAYPAL ACCOUNT to complete your booking. 3. As soon as you book and pay, you will receive an email with your user information and password. This will allow you to manage multiple bookings and/or make changes to your booking in the future. You will also receive email confirmations of your booking and a receipt from Paypal. * If you prefer to pay by cash or check, please call us at 209-533-4542 to book your spot.
RETURNING PAINTERS:
If you HAVE attended an event with B&C before, please log in using the shorter form on the right (below). When you registered for your first event, you were sent an email with your login information. Your Username is the first section of your email address. If you have misplaced your login information, you may retrieve by following the links just below the form.
Bookings
Bookings are closed for this event.