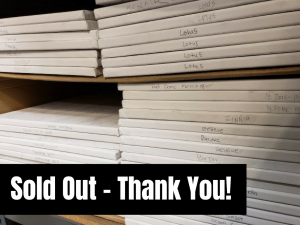 The Paint Bar:

 INTRODUCING A NEW PAINT Party EXPERIENCE at Brush & Cork 
We have a lot of canvases that are leftover from when people have not shown up to a party (BTW, please call within 48 of any party in order to get a credit to another party, if you can't make it to a party you paid for!). We try to reuse them as much as possible, but we are running out of room to save them while waiting to be re-used. So we decided to make a party with them and offer a HUGE DISCOUNT for you to come and play.
FOR ONLY $10! you can choose from our huge selection of pre-drawn 16″ x 20″ (our standard size) canvases and you can paint it with any colors you want. We will advise very minimally during this event. But since every canvas will be different, you will pretty much be on your own to play, paint and experiment! If you've ever wanted to just relax and enjoy a time to paint on your own, just for the sheer joy and play of it, or to see what you can do without anyone telling you what or how to paint… THIS IS FOR YOU. If you wanna come with a bunch of friends and make a crazy night of it…THIS IS FOR YOU.  If you want a fun Date Night to play together…THIS IS FOR YOU.  If you've never done this before and wanna see what grown-up paint-by-numbers is like…THIS IS FOR YOU!!!
REMEMBER…IT'S ONLY $10!!! WHAT'S TO LOSE? 
A night with friends is never a waste.
BYOB and snacks. Painting starts at 6:30 PM.
Sorry, no one under 21 allowed.
Date/Time
01/04/2019
6:30 pm - 9:30 pm
Registration Instructions:
NEWCOMERS:
1. If you have never attended an event at Brush & Cork, please fill out the form on the left (below). Make sure you enter the security CAPTCHA at the very bottom before you click 'BOOK NOW'. It is a security feature to prevent fraudulent bookings. 2. After you click 'Book Now', you will be re-routed to Paypal where you can PAY WITH CREDIT CARD OR A PAYPAL ACCOUNT to complete your booking. 3. As soon as you book and pay, you will receive an email with your user information and password. This will allow you to manage multiple bookings and/or make changes to your booking in the future. You will also receive email confirmations of your booking and a receipt from Paypal. * If you prefer to pay by cash or check, please call us at 209-533-4542 to book your spot.
RETURNING PAINTERS:
If you HAVE attended an event with B&C before, please log in using the shorter form on the right (below). When you registered for your first event, you were sent an email with your login information. Your Username is the first section of your email address. If you have misplaced your login information, you may retrieve by following the links just below the form.
Bookings
This event is fully booked.