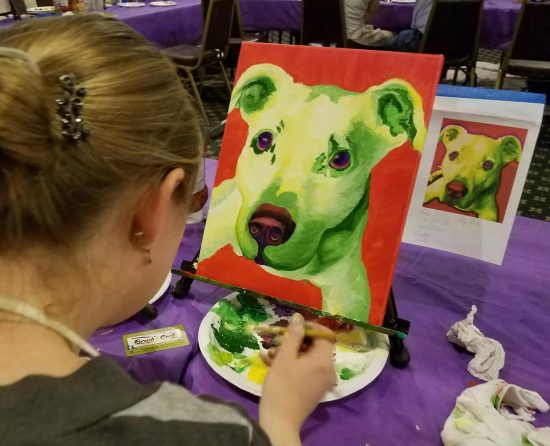 POP Art Pet – Friday, September 29th
We are so excited to be bringing back our most popular painting party, our POP Art Pet, paint your pet's portrait party!  You will paint your own pet's portrait with your very own one-of-a-kind color.  Sign up no later than September 11th, then send a photo of your pet to our email address listed below no later than September 11th.  We colorize the photo, project it onto your canvas and when you arrive, we have your newly colored photo and canvas waiting for you.  Sign up early for this party, it sells out quickly.
Please come back and read these instructions very carefully AFTER you have signed up and paid for your ticket and BEFORE you send a photo of your pet to Brush & Cork.
INSTRUCTIONS FOR THE PERFECT PET PHOTO (please read carefully):
If you do not understand what a High Resolution photo is, please Google or You Tube it or ask someone who understands their cell phones and the differences between High Res and Low Res. I understand this can be confusing for those of us that just take pictures on our phones and don't care or know how large they are.  It will make all the difference in the world on the detail of your painting and what your critter will look like. Your photos need to be High Resolution of 300 dpi or on your phones go to your camera settings and make sure it is set for the highest/largest setting.  It's kind of like setting your display on your computer monitors. If it is too small the images are blurry.  Please only call me if you absolutely can't find the correct info. I can't always know how to change your phone settings, because I don't know about every kind of phone.
How To get a GOOD photo of your pet:
POSES:
Either look right down on them as you are standing above them and have them look up at you OR get down on the floor and be at their level.  To get a good face shot, it works if they have their mouths open or tongues out. It makes them look like they are smiling and really adds character to the portrait. Or if they have a cute way of tilting their head or perking up their ears, that all adds to their character in the portrait. If you don't know which one to use, send me 2 or 3 and let me choose which one will work the best.
Full front face view is better than a profile. When they look directly at you is the best pose. If you are having a hard time, get someone to assist you in attracting the critter's attention.
This particular party is for dogs, cats, or other critters that have short snouts. Horses, mules, and donkeys are a separate party requiring a different size of canvas.
Check out our previous photos of POP Art Pet parties on our Facebook page to see poses that work.
LIGHTING:
If your pet is only one dark color (black or brown) and it's hard to see their eyes in the photo, make sure that sunlight or room lighting is behind you and facing them so that their eyes are lit up and visible in the photo. And make sure that the background is light enough to contrast behind their heads.
If your pet is one light color (white or blond), make sure that you pose them on a dark background in order to contrast them and not blend in with the background.
If there is a certain marking on your pet's face that is important to you, make sure that the lighting doesn't wash it out.
SEND YOUR PHOTOS TO: info@brushandcork.com

 

No Later Than MONDAY, SEPTEMBER 11th!!!
You MUST BOOK this party by SEPTEMBER 11th in order to have your canvas prepared on time!
If I have to call or write you because your photo is too small or not clear or not a good image I will need to charge you for corrections that need to be done. There will be a $5 charge for every correction call needed. Payment of this fee will be due the night of the class. I will email you if additional charges will be necessary.  We are trying to keep the cost of this party down, but it takes about an average of an HOUR AND A HALF for each portrait.  In order to continue to keep the cost down, I need to receive your photos in high resolution, to prevent phone calls and repeated instructions.
Don't let all these instructions scare you. It's not difficult and if you follow them, your portrait of your pet will come out all that much better.  Have fun with it!
Sorry, no special discounts, credits (unless they were for a POP party), or filled rewards cards will be accepted for this party.
We provide your pre-drawn canvas,  paint, easel, apron, brushes and full instruction.  You provide your own libation and snacks to share. Come a little early for some sippin' and schmoozin' , painting starts at 6:30 PM.
Sorry, no one under 21 allowed.
Date/Time
09/29/2017
6:30 pm - 9:30 pm
Registration Instructions:
NEWCOMERS:
1. If you have never attended an event at Brush & Cork, please fill out the form on the left (below). Make sure you enter the security CAPTCHA at the very bottom before you click 'BOOK NOW'. It is a security feature to prevent fraudulent bookings. 2. After you click 'Book Now', you will be re-routed to Paypal where you can PAY WITH CREDIT CARD OR A PAYPAL ACCOUNT to complete your booking. 3. As soon as you book and pay, you will receive an email with your user information and password. This will allow you to manage multiple bookings and/or make changes to your booking in the future. You will also receive email confirmations of your booking and a receipt from Paypal. * If you prefer to pay by cash or check, please call us at 209-533-4542 to book your spot.
RETURNING PAINTERS:
If you HAVE attended an event with B&C before, please log in using the shorter form on the right (below). When you registered for your first event, you were sent an email with your login information. Your Username is the first section of your email address. If you have misplaced your login information, you may retrieve by following the links just below the form.
Bookings
Bookings are closed for this event.