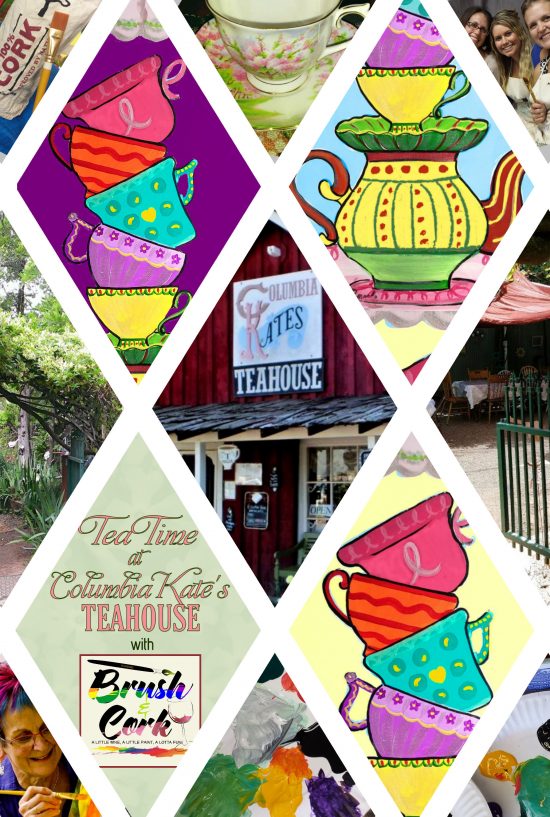 A Place to Make Memories
It's perfect weather for taking tea in the Tea Garden at Columbia Kate's with Brush & Cork!  We will be painting this fun Stacked Tea Cups painting.   This is a place and a time to make scrapbook memories shared with friends and family.   We will be enjoying the beauty of the garden, sipping tea provided by Columbia Kate's or imbibing on a libation of your choice that you bring  (yes, BYOB) and sipping it from pretty tea cups (kinda like prohibition, only legal!) and snacking on delightful savory & sweet treats created by Columbia Kate's Bakery, all included in the price of your ticket.
You will be able to paint your tea pot and tea cups in whatever colors tickle your fancy, while enjoying a lovely Autumn afternoon painting, sipping, and snacking.  If you have never had the privilege to take tea at CK's, you are in for a real treat.  Dining on fine china plates and tea cups (each one of them a different design), sipping delicious tea, and chatting with your Besties while you paint!  Nothing better!!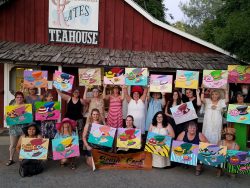 Wear your favorite chapeau
Make your experience even more festive by adding your own special hat to wear to the tea party. Afterall, what is a tea party without the perfect chapeau? Although, not a requirement to make the event perfect, it truly does add to the festivities.   And dressing up is always fun too (but also not required to have fun).  Don't forget to BYOB if you care to partake.  This was a huge success in 2015 and we are so happy to have been invited back this year for more delightful times.  You won't want to miss it!  Tickets sell out quickly.
Plan B for Tea will be…
We realize that this is October and weather can sometimes be unpredictable.  So we have planned for the best afternoon in the garden, but if cold winds or rain come early this year, our alternative Plan B for Tea will be… Plan B 4 T will B), meeting at the Brush & Cork studio at 226 W. Jackson St., in Sonora and Columbia Kate's will bring the treats to us.  If this does happen (Not Gonna happen…think positive!), you will be notified before in enough time to re-direct your plans.
Date/Time
10/22/2017
2:00 pm - 5:30 pm
Registration Instructions:
NEWCOMERS:
1. If you have never attended an event at Brush & Cork, please fill out the form on the left (below). Make sure you enter the security CAPTCHA at the very bottom before you click 'BOOK NOW'. It is a security feature to prevent fraudulent bookings. 2. After you click 'Book Now', you will be re-routed to Paypal where you can PAY WITH CREDIT CARD OR A PAYPAL ACCOUNT to complete your booking. 3. As soon as you book and pay, you will receive an email with your user information and password. This will allow you to manage multiple bookings and/or make changes to your booking in the future. You will also receive email confirmations of your booking and a receipt from Paypal. * If you prefer to pay by cash or check, please call us at 209-533-4542 to book your spot.
RETURNING PAINTERS:
If you HAVE attended an event with B&C before, please log in using the shorter form on the right (below). When you registered for your first event, you were sent an email with your login information. Your Username is the first section of your email address. If you have misplaced your login information, you may retrieve by following the links just below the form.
Bookings
Bookings are closed for this event.