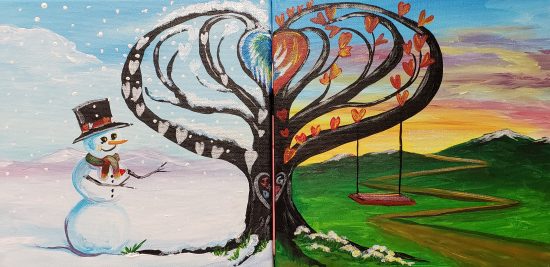 It's our 6th Annual Valentine's Party!!
It is said that fire and ice can add spirit to a relationship. Quite often we need that other person to help complete us, to balance our lives, to help fulfill the unit. We will be painting a unique design to express the look of the this Fire and Ice theme. One side represents the calm, cool, serene side of our winter mountain environment in the snow and the other canvas represents the warmth and heat of summer life in the mountains. Together, they share the Tree of Love. Each person will receive a pre-drawn canvas, 12″ x 12″. If you come as a single (this is not a couples-only event, come with your BFF!), you can choose which side you prefer to paint.
Be sure to sign up by Sunday, February 10th to celebrate Valentine's Day at our 6th Annual Valentine's Dinner and Paint Party. The deadline is February 10 in order to allow Chef Dave enough time to prepare your amazing meal!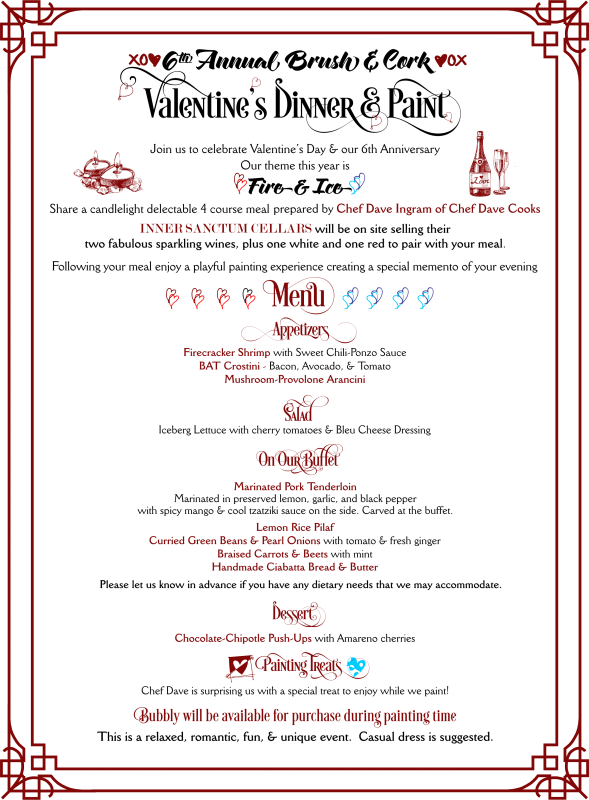 The appetizers and wine start flowing at 5:30 PM, followed by dinner at 6:30 PM and painting around 8:00 PM. While you enjoy your dessert in our front room, we will be turning our back room back into a paint studio. Be sure to wear casual clothes to enjoy the whole event. Our aprons always protect you, but we wouldn't want very dressy clothes to get harmed.


You'll hardly recognize our new dining room where you will enjoy a 4-course delightful meal prepared by Chef Dave Ingram of Chef Dave Cooks, using our Fire & Ice theme to create the event's special menu.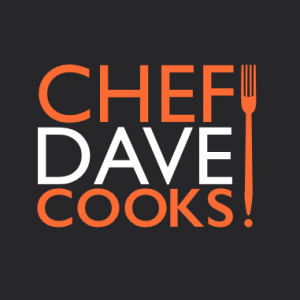 We are also very fortunate to have Inner Sanctum Cellars again selling their Bubbly and Peachy (their festive sparkling wines), along with a red and white wine for the evening to pair nicely with Chef Dave's cuisine. You can buy your favorite Inner Sanctum wine by the glass or bottle!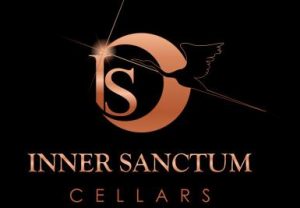 Enjoy a playful painting together, paint your own or trade off painting on each others – the choice is yours.
Tickets are $90.00 per person.  Be sure to purchase two tickets if you are coming as a couple.  
Bookings close on Sunday, February 10th to give Chef Dave enough notice for preparation.  Purchase your tickets early, seating is limited!
Event starts at 5:30 PM.
Sorry, no Gift Certificates accepted for this event. No one under 21 allowed.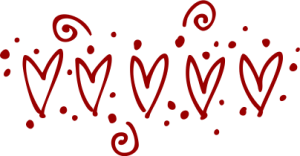 Date/Time
02/14/2019
5:30 pm - 10:00 pm
Registration Instructions:
NEWCOMERS:
1. If you have never attended an event at Brush & Cork, please fill out the form on the left (below). Make sure you enter the security CAPTCHA at the very bottom before you click 'BOOK NOW'. It is a security feature to prevent fraudulent bookings. 2. After you click 'Book Now', you will be re-routed to Paypal where you can PAY WITH CREDIT CARD OR A PAYPAL ACCOUNT to complete your booking. 3. As soon as you book and pay, you will receive an email with your user information and password. This will allow you to manage multiple bookings and/or make changes to your booking in the future. You will also receive email confirmations of your booking and a receipt from Paypal. * If you prefer to pay by cash or check, please call us at 209-533-4542 to book your spot.
RETURNING PAINTERS:
If you HAVE attended an event with B&C before, please log in using the shorter form on the right (below). When you registered for your first event, you were sent an email with your login information. Your Username is the first section of your email address. If you have misplaced your login information, you may retrieve by following the links just below the form.
Bookings
This event is fully booked.