By Popular Demand…
Our POP ART Pets party is back! If you have a pet?you don?t want to miss this special opportunity to paint your very own personalized portrait of your critter in wild fun colors.
Because the process of prepping the personalized painting of your pet is long and involved, we need almost three weeks to convert all of the photos received. REGISTER NOW and send your photo to us the same day if you can.
SEND YOUR PHOTO TO: info@brushandcork.com NO LATER THAN Tuesday, August 27th!
In order to make your painting the very best it can be, we are enclosing some helpful tips, both for your convenience and for our production needs. It?s essential we receive a high resolution photo. Below are suggestions for posing your pet, lighting, and a few other tidbits. Don?t let the instructions scare you off. I know you have taken a bazillion photos of your pet. You can do this! Have fun with your pet and its silly faces or favorite poses. You will love painting that adorable face and watching your buddy come to life as you paint.
INSTRUCTIONS FOR THE PERFECT PET PHOTO (please read carefully):
Photos must be high-resolution and in jpg or jpeg format, not pdf or png.
How To get a GOOD photo of your pet:
POSES:
Either take the photo as you are standing above them and they are looking up at you OR get down on the floor and be at their level. To get a good face shot, it works if they have their mouths open or tongues out. It makes them look like they are smiling and really adds character to the portrait. Or if they have a cute way of tilting their head or perking up their ears, that all adds to their character in the portrait. If you don?t know which one to use, send me 2 or 3 and let me choose which one will work the best.
Full front face view is better than a profile. It helps to have someone help you, while you offer treats or playtime, have someone else snap pictures. NO NEED TO CROP, I will do that to fit to the canvas. Only ONE pet per painting (believe me, these are detailed!).
LIGHTING:
If your pet is a solid dark color (black or brown) and it?s hard to see their eyes in the photo, make sure that sunlight or room lighting is behind you and facing them so that their eyes are lit up and visible in the photo and make sure that the background is light enough to contrast behind their head.
If your pet is one solid light color, you guessed it? please make sure that you pose them on a dark background in order to contrast them and not blend in with the background.
If there is a certain marking on your pet?s face that is important to you, make sure that the lighting doesn?t wash it out.
SEND YOUR PHOTO TO info@brushandcork.com NO LATER THAN Tuesday, August 27th!
There will be a $5 charge for every correction call related to an unusable photo. Payment of this fee will be due the night of the class. I will email you if additional charges will be necessary.
Don?t let all these instructions scare you. It?s not difficult and if you follow them, your portrait of your pet will come out just perfect. You?re creating a keepsake you?ll treasure forever. Have fun with it!
Please arrive by 6:00 PM to get full instructions before you start painting. Painting starts at 6:30. BYOB and snacks!
Sorry, no one under 21 years of age allowed.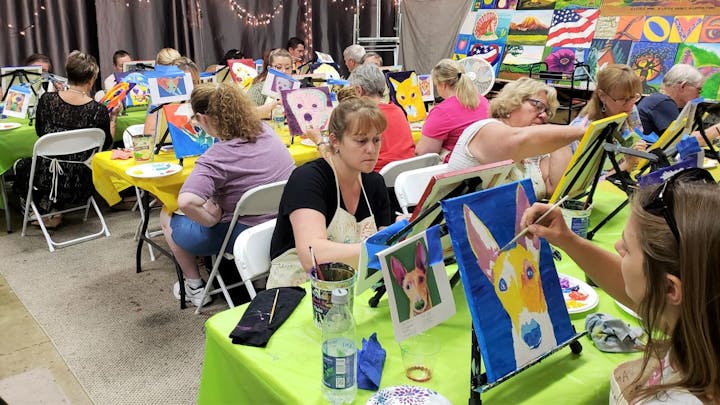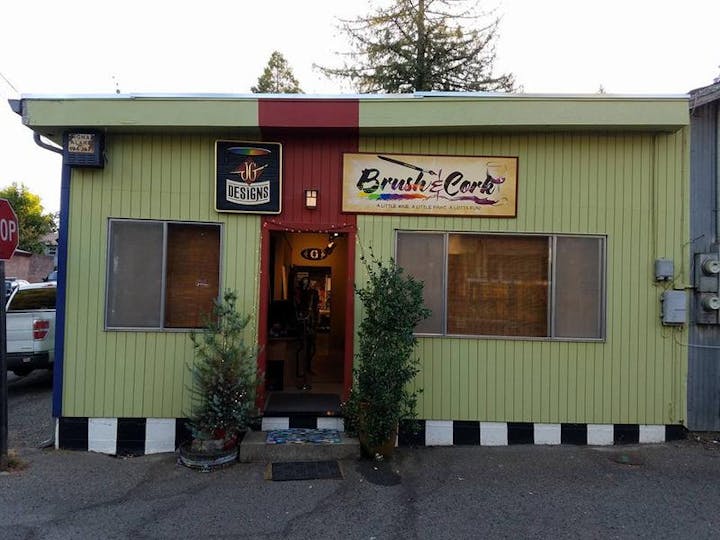 Gather with friends at Brush & Cork. Enjoy finding your own inner creativity with paint and play and maybe a little wine and snacks. No Experience necessary, just a playful attitude and a joyful heart. We provide a pre-drawn canvas, paint, easels, brushes, aprons, and full instruction. Follow along with the friendly teacher or go "rogue", it's all about the playful creative side of life.
We provide plastic wine glasses, cork screws, paper plates, napkins, plastic utensils, water, tea, and coffee.
BYOB and snacks. Come a little early to choose your seats and some sippin' and schmoozin' time. Sorry, no one under 21 unless stated.
Check us out at Brush & Cork and on our Brush & Cork Facebook page for more info about our private parties and lots of fun photos and other upcoming events.