Session Details
When planning a special party, try something unique and so much fun for everyone. A wine and paint party where everyone takes home their own special memento of the event. There's no mess to clean up. We supply the utensils, paint, brushes, easels, aprons, a pre-drawn 16″ x 20″canvas and full instruction. You BYOB and food. That's it! What a super party!! People will talk about it long after it's over and you will be thanked and remembered as a super party planner! At our private parties, people under 21 may attend, but of course, they can't drink. So this helps you be more flexible with your invitations and planning.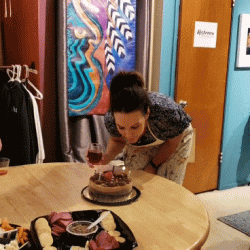 Let's Celebrate!
Holiday Parties, Birthdays, Bachelorette Parties, Bridal & Baby Showers, Graduations, Reunions, Fundraisers, Team Building Workshops, Anniversaries, Retirement – or for any other party reason!
We have plain white paper plates, napkins, plasticware, cork screws, a Keurig coffee maker, water dispenser, coffee, tea, plastic glasses and hot cups. If you'd like a specific color or real wine glasses, please provide them. Whatever the occasion, a private painting party at Brush & Cork means stress-free fun for you and your guests.
Painting parties are 2 to 3 hours long, depending on the painting and number of people.
Pricing
Standard pricing is $35 per person for most paintings offered (some paintings take longer and are priced at $45 per person). Any parties of 8 or less can be accommodated during our normal public painting parties at the listed price for the class scheduled at that time.
If you wish to have additional time for your event (for mingling, gift opening, etc.), you may do so for an additional $50 per hour. If you want to come early and decorate, we will work with you as much as possible, if it is not conflicting with another class time. If decorating takes longer than an hour, we will need to charge a fee of $20/hr for every hour after the initial hour.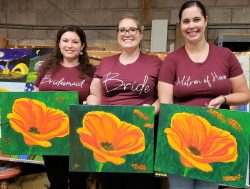 If you would like a special themed painting designed just for you, we will be more than happy to design one for a fee of $100-$300, depending on the complexity. If it is a painting that can be used for other parties, we won't charge you any extra fee.
For off-site parties, there will be a set up and clean up fee of $100-$150 depending on location and number of people. Off-site events require a minimum of 10 people and start at $35 per person.
Private parties in our studio require a minimum of 10 people.
SPECIAL BONUS: If the host of the party gathers more than 15 people (not including the host!) for the party, the host paints for FREE!
A $150 deposit (10-15 person party) or $250 deposit (15+ person party) will be required at the time of booking. Refunds will ONLY be given if cancelled 2 weeks prior to the event date. Final payment will be due 7 days prior to the event date, along with a total head count. If you REALLY want a private party and have less than 10 people who plan on coming, you may pay the total minimum amount due for the party ($350).
When to have it
We can do private parties any time we don't already have something scheduled. You can see all of our scheduled public and private events on our event calendar here. Please keep in mind that we will fill in the future months with public events if the days appear to be somewhat empty, so book early to get your first choice!
Book Your Party!
Types of Parties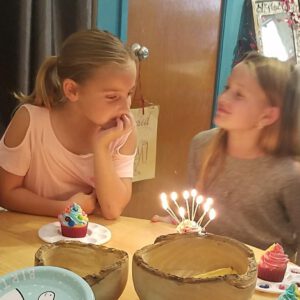 Kids' Parties
Brush & Cork is perfect for kids' parties! They are natural Picassos! They've been to the bowling alley, they've been to the movies, they've been to picnics…Nothing like Brush & Cork! We are fresh, creative, and tons of fun! Pricing starts at $23. per person for an 8″ x 10″ canvas, pre-drawn. We suggest the minimum age of the children to be 7. We also suggest that the number of children equal about the birthday child's age. The younger the child, the smaller the party, the better the experience for all the kids. We will work with you to customize the event. But we do require a minimum of 10 people painting, so you might have a couple adults that were love to join the fun.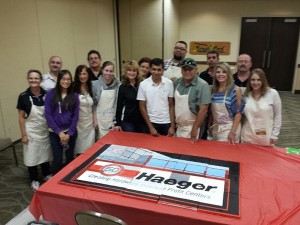 Work Events
Uncork team spirit! Painting your way to a strong, creative workplace, by rewarding a great team, or creating a group painting of the company logo for the lunch room wall, or maybe you just need to blow off some steam after working hard towards a large project. For whatever reason, Brush & Cork will work with you to customize a unique experience tailored perfectly to your group.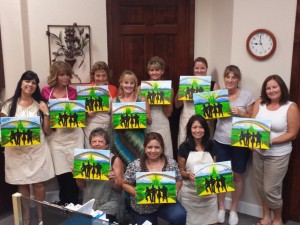 Fundraising Events
Brush & Cork believes that it cannot survive without a thriving community. And to that end we are committed to Painting It Forward. Let us help you host a painting event to raise awareness and funds for something that you care about. Typically, you can charge as much over B & C's usual prices and donate that part to your charity and B & C will donate 10% of proceeds to your 501(c) nonprofit organization. Or we can discuss a smaller canvas that we will charge less to layout and teach, which is usually $30 but can be as little as $25, depending on the size of the canvas, and you add on any amount over that for your fundraising ticket.
We can't wait to come up with something super wonderful for your party!