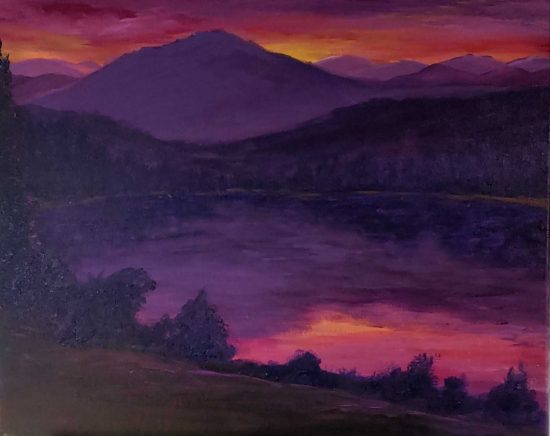 "The mountains are calling and I must go." – John Muir
What could be better than sitting on the edge of a lake in the mountains watching a perfect sunset turn everything pink and purple in the glow of a perfect summer evening? This is a rendition of the Eastern Sierras June Lake sunset, but you can make it your special place when you want to let your mind wander to that serene place just for you. The fun of this is adding more pink or lighter purple or more yellow or orange or sky blue and creating your own special sunset view.
BYOB and snacks. Painting starts at 6:30 PM.
Sorry, no one under 21 allowed.
Date/Time
05/09/2019
6:30 pm - 9:00 pm
Registration Instructions:
NEWCOMERS:
1. If you have never attended an event at Brush & Cork, please fill out the form on the left (below). Make sure you enter the security CAPTCHA at the very bottom before you click 'BOOK NOW'. It is a security feature to prevent fraudulent bookings. 2. After you click 'Book Now', you will be re-routed to Paypal where you can PAY WITH CREDIT CARD OR A PAYPAL ACCOUNT to complete your booking. 3. As soon as you book and pay, you will receive an email with your user information and password. This will allow you to manage multiple bookings and/or make changes to your booking in the future. You will also receive email confirmations of your booking and a receipt from Paypal. * If you prefer to pay by cash or check, please call us at 209-533-4542 to book your spot.
RETURNING PAINTERS:
If you HAVE attended an event with B&C before, please log in using the shorter form on the right (below). When you registered for your first event, you were sent an email with your login information. Your Username is the first section of your email address. If you have misplaced your login information, you may retrieve by following the links just below the form.
Bookings
Bookings are closed for this event.