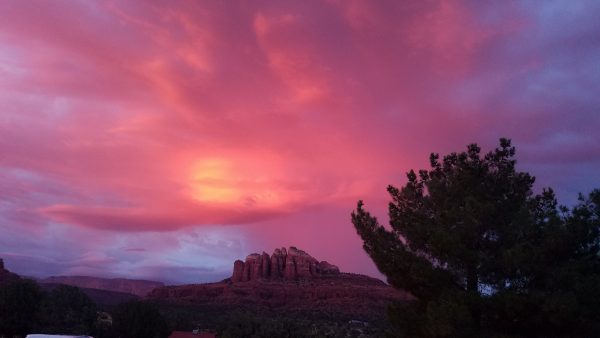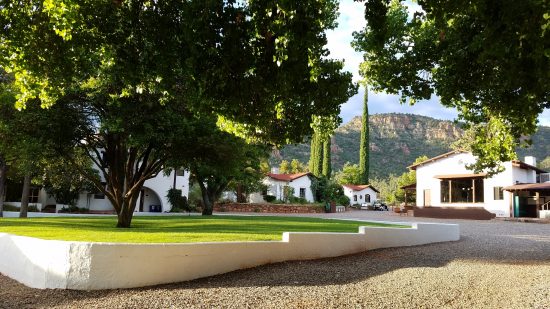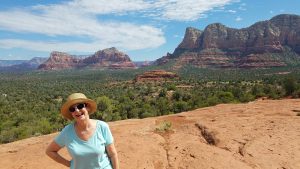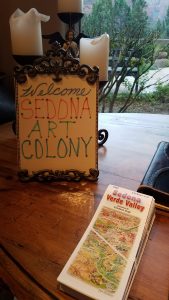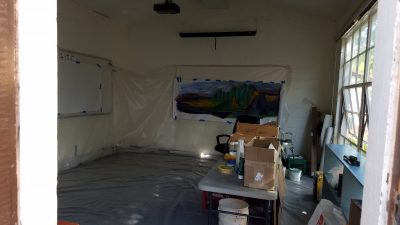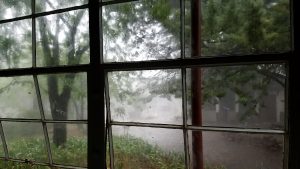 I am honored to have been invited back to the Sedona Summer Colony, an artist residency located about 20 minutes outside of the Village of Oak Creek on the 300 acre property of Verde Valley High School boarding school.? ?For those of you that may not know what an artist residency is, it's like a sabbatical, where an artist can take the time to explore her inner most creative realms and not be disturbed by the demands of the outside world.? there are no workshops to go to, no "have to's" to tend to.? Two delicious meals a day are served, we live in the dorms in rooms by ourselves.? We gather at meals and talk about what we do, how we create, where our blocks are, how we hurdle them, whatever? our creative minds yearn for, we can discuss and be vulnerable about our sharing.? It is a gathering of all kinds of creatives; visual artists, sculptors, musicians, writers, ceramicists, even wearable arts artists.? The conversations are always stimulating and intriguing.? There are hikes to swimming holes, visits to museums, vortexes, Indian Reservations, and quiet walks on the property.? The artists can choose why they are there and what they personally want to accomplish from being there and while there.? For me, it is a desire to paint, paint, paint, with no previous agendas as to what.? ?It is set during the Monsoon Season and the skies offer up a multitude of inspirational color and forms over the gorgeous red rocks.? Morning walks are accompanied by tons of bunnies coming out of nowhere to hop along and escort you on your way and the colors are vibrant yellows, greens, purples, pinks, blues, and reds.? ?It doesn't get really, really hot everyday (it's much higher elevation than Phoenix or Scottsdale), but if it does, the afternoon monsoons bring a breeze and a downpour that is refreshing and entertaining.? Last year the water blew in through my bedroom and flooded my laptop (not leaving my new laptop anywhere near a window again!) and another one flooded the first eight feet of the entry way into my studio.? Also remembering to take a raincoat this year…LOL!!!
I'm so excited, I can hardly focus on what I have to do to prepare to leave and also what to do to prepare Brush & Cork.? Mary Lou Gerber and Kourtney Reynolds will be here, holding down the fort and Mary Lou will be having some really wonderful parties.? One of them will be the Kids & Grown-Ups Painting Together Parties on July 23, 25, and 27th.? ?Since I won't be here filtering last minute requests, be sure to get your reservations in early.? The parties this month were a huge success and those people want to come back and by now they have spread the word to their friends too.
New Painting Parties Happening While I'm Gone!
This past year I have made a concerted effort to start offering a variety of types of parties at Brush & Cork.? In December, we offered wine glass and wine bottle painting for the first time.? It was so much fun, we had it again with a Springtime theme and we actually had a private party request it for a Bridal shower.? One of Mary Lou's favorite things to do is smaller decorative painting on different types of objects.? While I'm gone, she is introducing a new painted Market Tote ??, a Wine Bottle Tote with a fun Baseball Cap called Sip & Go, and if we get the cases delivered to us on time, she will also be teaching a Canvas Pillow Cover party!? I hope you will try some of these parties and let me know what you think.
Also, I invite you to join our new Facebook Group, the Brush & Cork VIP's ( Very Important Painters).? Since Facebook has made it increasingly more difficult for our Facebook followers to see our posts, starting a group was an alternative for us to reach you more easily. If you already "Like" our Brush & Cork Facebook page, you can automatically join the Group or if you know someone who Likes B & C, ask them to add you in.? Or you can request to the Group to join.? The idea is, that if you belong to a group, you get notified about anything that is going on in it, such as our parties and their dates, or discounts that we are offering just to Group Members.? Plus you can post things that you would like to comment about (keep it nice, kiddos 😉 !) on there too.? So you actually have a voice in the group.? And what goes on in our B & C VIP's Group stays in our B & C VIP's Group…wink-wink.
So, have a Great July and August!? Please sign up for our newsletter to stay informed of all our activities at B & C and I will be writing about my time in Sedona in the newsletter too, hold down the fort for me please, show Mary Lou some love by signing up for her new parties, and I'll see you in Mid-August.? And don't forget those wonderful Kiddo parties.? Adults can come only if accompanied by a child.? You can choose to paint or not and only pay for those that are painting.? Suggestion…it's really fun to paint WITH the kids!!
Painting On…
Judy