[et_pb_section admin_label="section"]
[et_pb_row admin_label="row"]
[et_pb_column type="4_4″][et_pb_text admin_label="Text"]

Holy Paint Splats Batman!
Happy New Year to You! I hope you had a great Holiday Season spent doing things you like with people you love. ?I enjoy this time, but I always look forward to the seemingly quiet time in January, when I can look to the future and start to think about what my year will look like, as well as reflect back on the previous year. ?It's January 1st and in the last week alone, I have torn apart my studio to make it better and more efficient for Brush & Cork.
This is where I'm supposed to look back at the past year and reflect, right? ?All I can say is THANK YOU!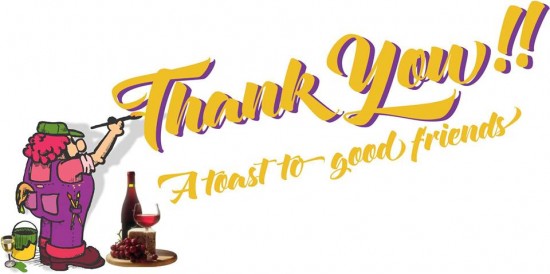 First and foremost thank you for having a good time at Brush & Cork and sharing that fun with your friends. ?I had hoped you would like to come and play at B & C, but when you start something new, ya just never know if your idea will be what people might grab onto. We are about to celebrate the Second Anniversary for Brush & Cork, because you are having a good time and telling your friends about us. So my reflection on 2015 is more of an anticipation of looking at what's to come. ?Because we hope it's just more and more laughter, fun, and silliness. ?Everyone needs laughter, fun, and silliness in their lives. Our hope is to make sure you get some of that here at Brush & Cork.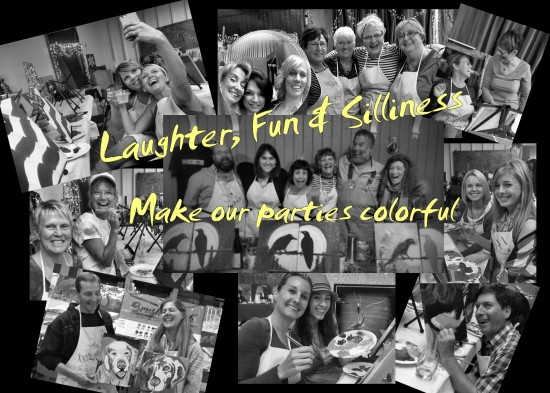 Because of the positive feedback, well…all the feedback (I like to know if there's somethin' that you don't like or would like to see more of or less of), we are making some needed changes around the B & C studio over the next month or two in order to make your experience here more comfortable and allow you to bring more friends, have larger private parties, bring your wine clubs, and offer more creative possibilities and experiences here in our little corner of the community.
Changes? You're gonna like them…I promise!
Changes make some people nervous. What if it doesn't feel as cozy? What if I don't feel comfortable there? I'm used to the way it has been. ?Not to worry. We decided not to move out of our current location because we listened to you and you said you liked it here in this funky artist studio. ?We are still funky, we have just shed a lot of unnecessary stuff and shed our old skin to help grow a new one. ?And I can't wait for you to see what we are doing! ?You may even be at a party in the next few weeks where not everything is perfect yet. ?Maybe you will have the opportunity to lend an idea or two as to what you think might be nice to have around here.
It's No Secret
Here's few of our new changes and future plans. Please let us know what you think.
Adding room for at least 10 more people, maybe more, to be comfortably seated. Bringing a total seating area to between 30 to 40 people (current seating is 20).
Building a bar with storage to provide and invite wine tasting and wine clubs a greater opportunity to enjoy Brush & Cork without added expense.
Increasing the amount of parties offered in a month.
Creating a Brush & Cork Club membership with discounts and party specials. What should we call our club?
New fun paintings to add variety to your gallery of fun. We are always looking for new themes. So let us know if there's something you would like to paint.
More children's parties…No..No wine at kid's parties. But maybe cocoa and cookies?
Got an idea for a party and not sure if it would work? Call us, let's talk. Or Click Here to find out our details on private parties. ?And please remember to think about us for the unique Birthday, Retirement, Family Reunion, Bridal Shower, Team Building or Office Rewards, Baby Shower, or even House Warming party! We make your party memorable!
And this Valentine's, February 14th, 2016, come to our party for a fun and unique experience, with a three course meal, including ?hors d'oeuvres and dessert, created for us by Chef Dave Ingram of Chef Dave Cooks. ?We'll be painting "Valentine's LOVE". The fun begins at 5:30 with hors d'oeuvres. You bring your own libations and leave the rest to us. Dress is casual. Cost is $80. per person. ?Be the first to know about upcoming events by signing up for our newsletter in the upper right hand corner of any page on our web site. ?Or find us on Facebook.
Join us for a fun, unique, and playful Valentine's. Don't Forget…the next day is President's Day and a day off for many people.
Romance is most enjoyed when it's creative! Click Here to Purchase your Tickets!
Fun times at our 2015 Valentine's party