It's hard to believe that Brush & Cork opened it's doors as a place for grown ups to play just a year and a half ago. And I am loving the response!?I thought it would be fun for all ages of grown ups, but I never imagined that it would take off like this. Of course, I always hoped it would.
Since we started we've had 25 Public Parties and 10 Private Parties and we are planning more exciting and varied types of parties for the near future, all the way through the Holiday Season. We have a Facebook page, that has grown to a wonderful 424 Fans, just through word-of-mouth! ?It is so exciting to see it take off. ?But more importantly, it is so wonderful to see people come back time after time, because they are having so much fun! And every time they come, they bring more friends to share in the fun. ?I feel like a Mama Bear showing her cubs how to hunt! Yes! Everyone can be creative, can feel the freedom of painting and the joy that it brings to complete a painting that you never imagined you could. It's Grown Up Paint By Numbers, with a twist.
So I asked a few people,
"What keeps you coming back for more?" "What makes this such a fun place for grown ups to play?" "What would you tell someone that might have some hesitations about coming to a place like this?"
Below are some of their answers. And they all said, "You can quote me!" I would like to take this time to thank each and every one of the following people for taking the time to give these funny, touching, flattering, and thoughtful responses! Warmed my heart, made me laugh and gave me pause to know that I am on the right Brush & Cork path to Grown Up Play Time.
My top ten reasons for coming back again and again to Brush and Cork.
#10 ? I have always wanted to paint but thought it was something you were born with.
I realized I CAN PAINT and I LOVE IT!
#9 ? I am making my own art for my own house and using some of my paintings as gifts for family and friends and they all love their one of a kind gifts from me and I enjoy creating them.? Can?t buy these at any store!
#8 ? The atmosphere is perfect and lends itself to learning and fun!
#7 ? Challenging myself with new things in my 50?s is on my bucket list.
#6 ? I love and have always admired art forms, specifically paintings so immersing myself in this way has been a healthy addition to my lifestyle.
#5 ? Being surrounded by other ?amateur? artists allows a calm approach to try something new and different.? You are not just surrounded by artists so you don?t feel embarrassed.
#4 ? I found new confidence in my ability to paint and have fun at the same time.? I feel so energized when I?m done like I can do anything!
#3 ? Painting is therapeutic.? You just get lost in what you?re doing learning about color and texture and creating color and making something your very own, one of a kind masterpiece!
#2- I have made new friends that add to the quality of my life.? So in addition to a new skill and a love and appreciation of painting, I have added to my circle of friends and come out of my shell a bit in a new and social way that I didn?t expect.
And the #1 reason I love Brush and Cork is?wait for it?
BECAUSE I LOVE JUDY GROSSMAN.? SHE IS THE BEST TEACHER, INSPIRING, KIND, LOVING, PATIENT AND SO FREAKING TALENTED THAT JUST BEING IN HER PRESENCE THERE IS REASON ENOUGH! ??Andee Houser?
(PLEASE NOTE: I did not pay her to say that!!! )
?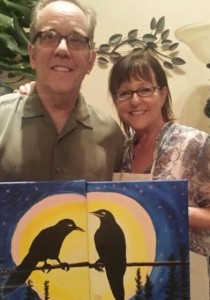 Brush and Cork gives me the pleasure of gathering with old and new friends…
starting with a little wine and appetizers…anticipation growing…some nervousness in knowing I am not an artist…to getting a rhythm of brush to paint to canvas…settling into the peacefulness of sitting, laughing, relaxing and creating. ?Gotta love it! ?Deborah Hart
-because it's cheaper than a one hour therapy session, and just as effective?
-because every time I walk down my hallway and see the paintings I've created I get a boost of self-confidence and say to myself I can't believe I did that!
-because there's not always?a lot of other things to do in Tuolumne?county
-because I generally never laugh that much with strangers
-because in?every class I've met new people that?I want to get to know better afterwards
-because I keep hoping that maybe young single male will show up and we'll fall madly in love
My job is anything but creative.?
Thanks to Judy and Brush & Cork I can sit with my friends, have a glass of wine and tap into the other side of my brain.? Judy is a fantastic guide through the entire journey and I?m always amazed at the end result! ?Tina Eaton
?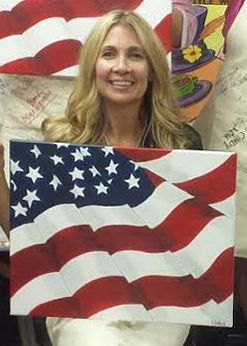 1)????? It?s addicting
2)????? It?s a great creative release after a long week
3)????? Lots of fun and loads of laughter
4)????? It makes me proud of myself?
5)????? The painting make great gifts!
Katie Dunn
?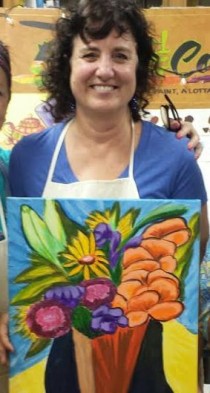 I just love to give my mind a rest from everyday worries and stresses
to do something creative with great people. And you can use me anyway you please! ?Berit Brown
?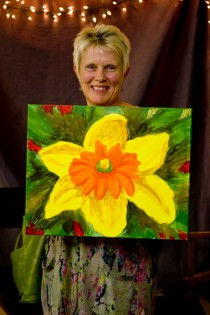 "I, Laurie Lehmann, have painted 15 beautiful paintings"…
if it weren't for Brush and Cork I definitely wouldn't be able to say that! "
It's revealing, visual, tasty, wild, loose and exhilarating.?
It's not s__, it's Brush and Cork! ?🙂 Jen Owen
?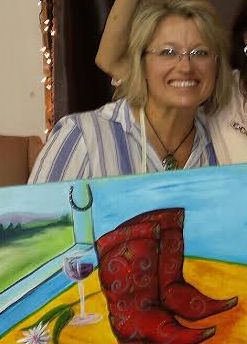 ?Well, after that, I can't say much more. Except…please join us for a fun evening with a few friends in a non-threatening environment, where it's always a party, not a class and
NO EXPERIENCE NECESSARY!